Manipulation – MAN
Manipulation of the SYSPRO data is a constant requirement. Specific SYSPRO master fields are periodically required to be re-structured due to aspects such as business growth and new strategies. These procedures will update the associated master files along with any occurrence of that master field throughout the transaction and history tables. This conversion process is based on a user defined cross reference which may be imported from "comma separated files" created using tools such as Microsoft® Excel®. Where necessary, these conversion procedures will merge data where many-to-one relationships exist. Updating of the master fields descriptions throughout SYSPRO is accommodated by this process. The following conversion procedures have been included in the MAN product at this stage:
·  General Ledger code – GLAM
·  Stock Code – SCAM
·  Customer Code – ARAM
·  Supplier Code – APAM
·  Product Class – PCAM
·  Product Class based on Stock Code – SPAM
·  Warehouse Code – WHAM 

NEW – See the new re-developed Cross Reference program now more efficient for those larger jobs – VIEW INTRO
DOWNLOAD Introduction flyer
VIEW Installation and User Documentation
MAN Preferences
Validate old X-ref code: Validates the old cross reference code against the SYSPRO master table for validity
Audit report setting: Defines whether the audit information is written to the audit file in detailed or summary format
Code merging: Indicates whether or not the module may allow multiple old codes to be merged into a single new code
Monitor refresh delay period: Defines how often the status information will be refreshed if in "Monitor" mode
MAN Xref
Module – select the associated module from the drop down
Save – selecting this save button will save the associated transactions and the validation routine will run showing the user a summary of the recorded transactions
Delete – will action the deletion of the highlighted entry in the Cross Reference Maintenance window
Preferences – will invoke the Manipulation Control / Preferences program
Re-validate – will force the revalidation routine which will refresh the various status flags accordingly.
Import File – selecting this button will present an Import File Details window. This import option caters for importing from a Comma Separated Value (CSV) file or alternatively the cross reference from another SYSPRO company
Print Xref Report – selecting this button will invoke the Cross Reference Details Report
Clear Entries – will display a confirmation prompt before removing all entries from the list view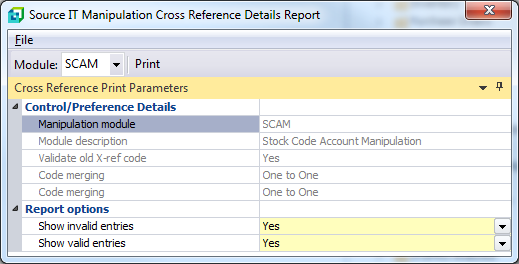 MAN Xref Report
Module – select the associated module from the drop down
Show invalid entries – if this option is set to "Yes", the report will include the pages showing the invalid cross reference entries along with all their associated errors
Show valid entries – if this option is set to "Yes", the report will include the pages showing the valid cross reference entries
MAN Run
Module – select the associated module from the drop down
Source IT Disclaimer: Observe the disclaimer details
Accept Disclaimer – accept the disclaimer by changing this value to "Yes" before the "Begin Replacement" button may become active
Begin Replacement – selecting this button will begin the associated manipulation for the selected module
MAN Status
Module Information: Displays status of a specific module's run along with the relevant settings
Table Details: Lists all the tables being modified by the current module along with status icon flags
Table Information: Displays the specifics of the records processed based on the highlighted table in the Table Details list.
MAN Audit Report
Clear Audit File – this button will delete ALL the Audit File records for the selected module.
Reprint records – if set to "Yes", the report will be produced for all records in the selected date range whether previously printed or not.
Date selection – selecting "Single" will only allow entry of the "Date from" field. "Range" will allow entry of the "Date from" and "Date to" fields.  If "All" is selected, all the unprinted audit records will print in date and time sequence.
XML license uploads only function with CHROME browser